Hazardous Materials / Dangerous Goods
CDS provides full services for the packing, handling, transporting, and shipping of hazardous materials and dangerous goods.
CDS assists with compliance with air, ocean, and road dangerous goods regulations and safe delivery of your cargo.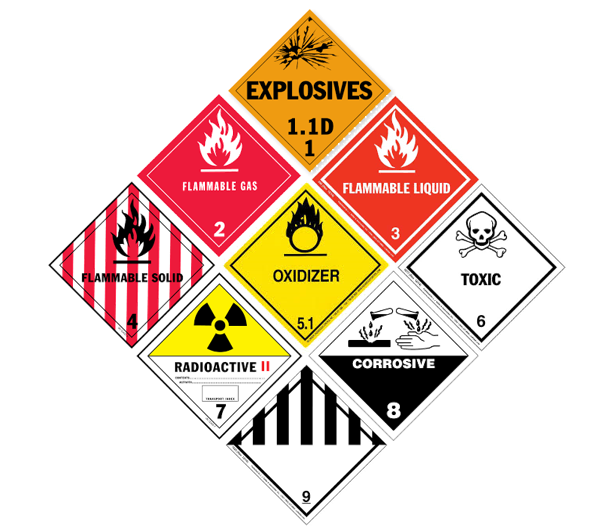 1.
Explosives – including fireworks, airbag inflators, ammunition, etc.
1.1 Mass Explosive Hazard
1.2 Projection Hazard
1.3 Fire and or Minor Blast / Minor Projection Hazard
1.4 Substances and articles which present no significant hazard
1.5 Very Insensitive with Mass Explosion Hazard
1.6 Extremely Insensitive, No Mass Explosion Hazard
2. Flammable Gases – Aerosols, fire extinguishers, propane cylinders, etc.
2.1 Flammable Gases
2.2 Non-Flammable Gases
2.3 Toxic Gases
3. Flammable Liquids – All flammable and combustible liquids to include paints, lacquers, alcohols, etc.
4. Flammable Solids – Matches, carbon, sodium batteries, etc.
4.1 Flammable Solids
4.1 Spontaneously Combustible
4.2 Dangerous When Wet
5. Oxidizing – Hydrogen peroxide, ammonium nitrate fertilizers, pool chlorine, etc.
5.1 Oxidizing Substances
5.1 Organic Peroxides
6. Toxic and Infectious – Medical waste, dyes, pesticides, etc.
6.1 Toxic Substances
6.2 Infectious Substances
7. Radioactive – Density gauges, medical treatment products, uranium, etc.
8. Corrosives – Acids /acid solutions, batteries, iodine, etc.
9. Miscellaneous – Battery powered equipment, battery powered vehicles, Lithium ion batteries, Lithium metal batteries, fuel cell engines, life saving appliances, airbag modules, solid carbon dioxide / dry ice, combustion engines, first aid kits, expandable polymeric beads, magnetized material, plastic molding compound, etc.